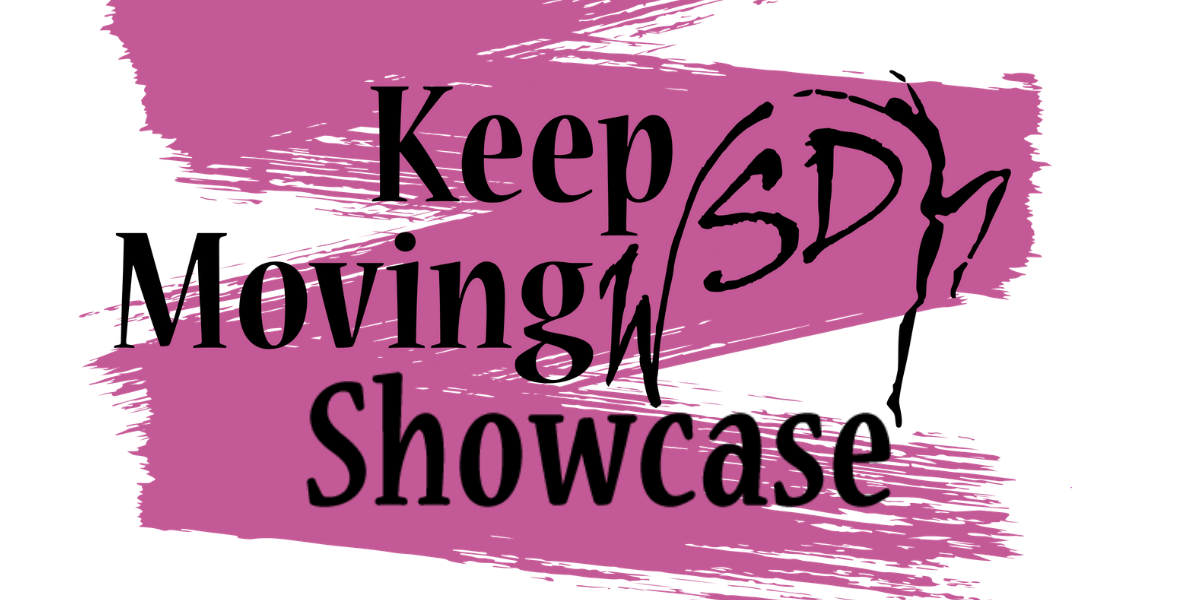 Perform with WSD in June 2021!
Our 2020-2021 season has been like no other, but through it all our WSD dancers have kept learning, kept growing and kept moving! To celebrate all that they have accomplished, we have reimagined this year's Spring Recital as a Keep Moving WSD Showcase. WSD dancers will be filming their Showcase performances at the Edmonds Center for the Arts in June, with the final edited performance video streamed in July.
A rehearsal and filming schedule is available below. We strive to keep our calendar as consistent as possible, however changes in the regulations around COVID could alter our schedule. Changes to any schedules or details of the showcase will be announced both on our website and through email.
Who can participate in the Showcase?
WSD dancers who are enrolled in both Series V and VI for their weekly classes can participate in the Showcase. All Showcase pieces will be rehearsed and performed with masks, and designed with social distancing in mind.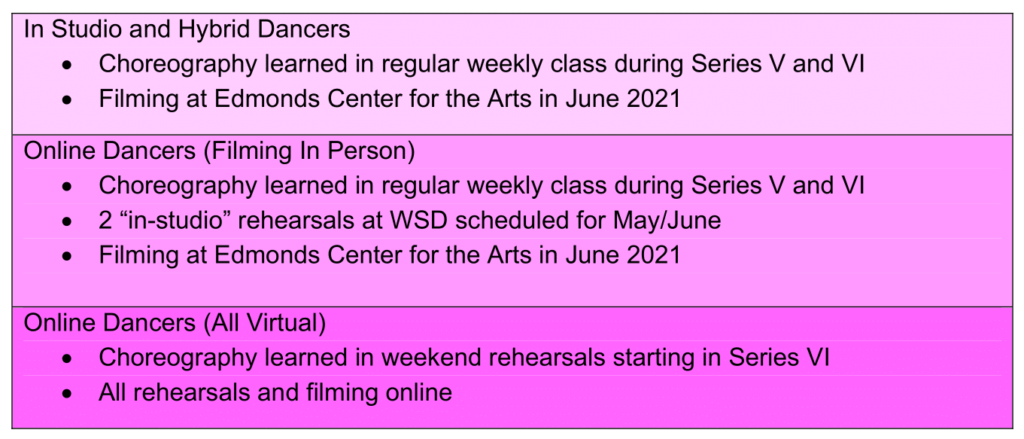 What is the commitment for performers and their families?
Dancers performing in the Showcase will be assessed a non-refundable performance fee, due by April 1.
Performance Fee for First Dance…………………….$95.00
Rehearsal and theater time
Costume pieces provided by the studio
One (1) virtual ticket providing access for a single device to the video stream performance
One (1) copy of the full production DVD
Performance Fee for Additional Dances……………$65.00
Rehearsal and theater time
Costume pieces provided by the studio
Video stream performance tickets and additional copies of the DVD will be available for purchase separately.
Showcase costumes will be simpler than a more typical recital to reduce cost and allow for more flexibility. Costume pieces and accessories will be provided by the studio, and are included in the performance fee. Any costume pieces provided will be yours to keep after the showcase.
Costuming will be based around the WSD dress code, and dancers will be needing to provide the base of the outfit from their own collection (ex. for a ballet piece, dancer will wear their black leotard, pink tights and pink ballet shoes from home, while the studio will provide a beautiful skirt and hairpiece).
Participants in the Keep Moving WSD Showcase will need to register through the Parent Portal by April 1. Full instructions can be found here:
Call us with your questions at 425-481-7899 or email info@washingtonschoolofdance.com
Attend our "Pull Up a Pink Chair" Parent Social on 3/25/2021 at 7:00pm PST for a question and answer session with WSD's Artistic Director.
Check this webpage regularly for updates!