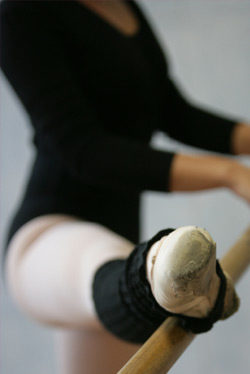 Our Fundamentals program begins at age seven and continues through adulthood with specialized classes in the dance disciplines of ballet, jazz, tap, hip hop and musical theater. Programming is progressive through the school year, and seeks to instill in each student a love and appreciation for the art of dance and performance. We provide a structured class environment with an emphasis on positive reinforcement, respect, commitment and special attention to individual student abilities.
Many paths began here; a strong foundation in ballet allows students to understand and explore the many dance forms which it inspired, as well as giving them an appreciation of beauty born of tradition and form. Students will learn the basics of classical ballet with a focus on proper technique, alignment and terminology in a fun and relaxed environment. Classical barre and center floor steps and variations will increase students strength, flexibility and coordination.
Groove to the music of the world in jazz. A mixture of African, European and American dance styles, jazz dance stretches, elaborates and even breaks the rules of classical dance. Often set to popular music, it is the dance form of MTV and the musical theater. Students will explore the different kinds of jazz dance and performance using high energy music and choreography. Because the foundation of jazz dance is ballet, concurrent enrollment in a ballet class is recommended for lower levels, and required for advanced dancers in levels 3 and 4.
An introduction to the foundations of modern dance, this class explores the contemporary style while building strength, increasing flexibility and providing a vocabulary of movement that can be applied to all dance styles. Contemporary dance emphasizes the use of the floor for centering and grounding oneself in movement, improvisation and personal expression, and is an ideal complement to jazz and musical theater studies. Concurrent enrollment in a ballet class is required for upper level classes.
If you like to sing, act and dance than this is the class for you! Musical Theater at WSD is an introduction to acting, dance, vocal skills, musical theater, characterization, theater vocabulary and performing skills. A love for the stage and a passion for performance is all that's required.
Make music with your feet in this popular American dance form! Students receive a solid grounding in classical tap technique while exploring rhythm and music. Tap dancing expands the mind's ability to remember and repeat patterns, developing mental concentration and physical coordination.
A popular form of jazz dance, hip hop is a high energy street dance style closely allied with trends in popular music. An ever evolving art form, hip hop incorporates elements of improvisation and personal expression in performance. Cutting-edge moves are taught in an age-appropriate manner to family-friendly music
Pointe and Pre-Pointe classes are offered as a component to advanced ballet training. This beautiful art form requires discipline and commitment to proper training. Only students aged 13 and over are considered for pointe training and placement is at the discretion of the ballet faculty and studio director. For more information about pointe training at WSD please contact us.
We now have two locations. Please select which schedule to browse: