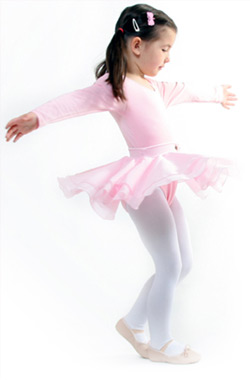 Did you know that hopping across hot sand at the beach mimics the classical ballet movement emboite? Your pre-schooler will after they play "At the Beach", a story-based lesson which combines imaginative role-playing with creative movement. Preschoolers love to play pretend and need to learn about their bodies; laughter in a theme-based lesson teaches this much more easily than standing in a line and repeating the same dull movements.
Even the youngest child can develop their creative and physical abilities through dance. Children aged 3-6 will expand their sense of self in the realm of imagination through make-believe, rhythm, role-play and free movement. Children will engage the world through activities involving communication and expression such as song and dramatic dance.
In these classes we present the building blocks of classical ballet and tap in an uplifting atmosphere full of fun and surprises. We promote natural and confident movement while encouraging both self-discipline and free expression.
Creative movement, specifically designed for energetic and free-spirited three and four year old dancers, keeps this group engaged and active throughout the class period. While singing children's songs and playing rhythm games, students learn beginning dance steps and terminology.
Children must be able to participate by themselves.
Fun dance, rhythm and pretending activities take learning to the next level. Dance technique is refined, and children begin developing their own dance style. Formal ballet class structure begins at the barre and students receive a solid foundation in tap footings and progressions while making lots of fun noise.
This class is perfect for kindergarteners and young first graders as a transition into more formal dance training.
Online:
Monday, 4:00pm – 4:25pm
Bothell:
Monday, 3:30pm – 4:15pm
Tuesday, 3:30pm – 4:15pm
Friday, 10:00am – 10:45am
Saturday, 9:00am –  9:45am
Snohomish:
Wednesday, 3:30pm – 4:15pm
Saturday, 9:00am – 9:45am
Online:
Pre-Ballet            Wednesday, 4:00pm – 4:25pm
Pre-Ballet/Tap    Monday, 4:30pm – 5:25pm
                              Wednesday, 4:30pm – 5:25pm
Bothell:
Pre-Ballet/Tap    Monday, 4:30pm – 5:30pm
                              Wednesday, 3:30pm – 4:30pm
                              Thursday, 3:15pm – 4:15pm
                              Thursday, 4:30pm – 5:30pm
                              Friday, 3:30pm – 4:30pm
                              Saturday, 10:00am – 11:00am
Snohomish:
Pre-Ballet/Tap    Thursday, 4:15pm – 5:15pm
                              Friday, 4:15pm – 5:15pm
                              Saturday, 10:00am – 11:00am